S'mores recipe's at CCG Pediatric Blog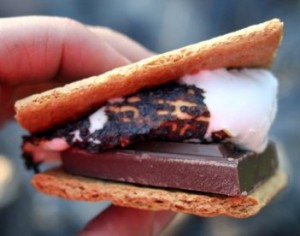 It is that time of the year, warm days and chilly nights, as you're  driving with the windows down you smell that enticing smell of a campfire,  the first things I think of it S'mores. Marsh-mellow on a stick over the fire getting all swollen and gooey, squished between a hunk of chocolate and two  crunchy graham crackers. Mmmmm good. I have been testing out some new recipes that incorporate the S'more theme I thought you might enjoy them.
For a little variation instead of graham crackers use chocolate graham crackers or chocolate covered graham cracker cookies,  or Fudge striped cookies. For the inside use Reese cups instead of a Hershey bar, if you are a Carmel lover drizzle Carmel over the inside of your S'more. Another condiment to add to your S'more could be a swipe of peanut butter, or Andes mints, or trade up your marshmallow for a Peep, colorful and cute.
S'More Brownies
Ingredients:
Brownie  Mix for a ( 9×13 pan)
1 bag of mini marshmallows (10 ounce bag)
Grahm Crackers enough to line a 9X13 pan
Line a 9/13 pan with graham crackers, I find if you break them in half it is easier to cover the bottom of the pan. Next make the brownies according to the directions. When complete pour the brownie mixture over the graham crackers. Bake according to the directions on the back of the brownie box, it is usually around 20-30 minutes. Five minutes before the brownies are complete, take them out of the oven and sprinkle the marshmallows over the brownies and place them back in the over for 5 minutes wait until the marshmallows are lightly browned and puffy then remove from the oven. Let sit for 10 minutes before serving.
S'More Bars
Ingredients
1/4 cup butter
1 pkg. (12 ounces) Golden Grahams Cereal
1 10 ounce package large marshmallows
1 cup of milk chocolate chips
Place cereal in a bowl and in a pan melt butter, add marshmallows, cook and stir until blended. Add this mixture to the cereal. Mix until all the cereal is coated. Use a buttered spatula and press evenly in a 13X9 pan. You can melt the chocolate chips in the microwave for a minute and drizzle them over the top of the bars. Store in an airtight container. Makes about a 1 1/2 dozen.
S'More DIP
Ingredients:
3/4 cup semisweet chocolate chips
8 large marshmallows: cut in half
Graham crackers for dipping
Instructions:
Preheat oven to 450 degrees
In a small cast iron skillet put chocolate chips in an even layer.
Arrange marshmallows on top of the chocolate.
Bake in the over for 6-8 minutes, until marshmallows are lightly browned.
Remove from oven and let stand for 5 minutes
Serve with graham crackers for dipping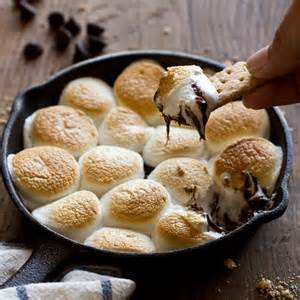 Make some memories with your family, have a bonfire, do some star gazing and catch a few lightning bugs in a jar, enjoy the summer.