Fun things to do with Candy corn at CCG's Pediatric Blog
Recipes with Candy Corn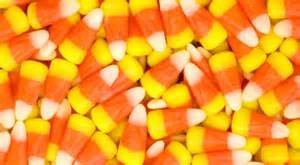 Candy Corn Bark
Items you will need:
24 ounces of white almond bark
Parchment paper
Candy corn
pretzels
Honey roasted peanuts
Place a sheet of parchment paper on a cookie sheet.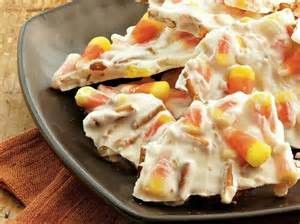 Preheat your oven to 350 degrees
Break up the bark by squares and place them on the cookie sheet with a half inch between each one. Leave in the oven for 10 minutes or until soft all the way through. Take out of the oven and smooth out with a spatula or knife. You can use whatever thickness you like. Place whatever treats you want on top. You can use candy corn, pretzels, roasted peanuts. Allow to cool. Flip up side down and take the parchment paper off then breakup in sizes that you prefer.
Also you can use the same white bark and in between the hard squares add Halloween Oreo's. Smooth out the almond bark and add the candy corn or Halloween sprinkles to the top, allow to cool.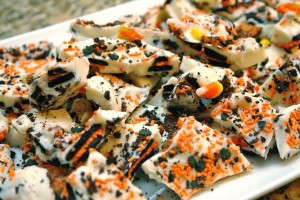 Candy Corn Rice Krispie Treats
6 cups of marshmallows
3 tblsp of butter
6 cups of rice Krispie cereal
Melt marshmallow and butter in a sauce pan, add to 6 cups of rice krispie's and candy corn. Mix together and place in a 9×13 baking pan. Use a spatula or butter covered wood spoon to flatten out. Take 1 cup of Chocolate chips and melt for 1 minute in microwave and drizzle over bars. Allow to cool and cut.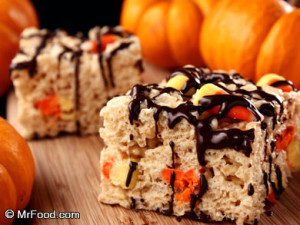 Goey Sweet and Salt Popcorn with Candy Corn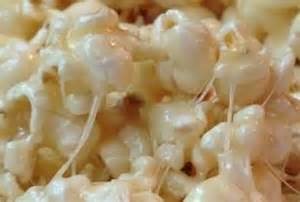 Microwave brown sugar and butter until melted, stirring frequently.
Add marshmallows and continue to microwave, stirring frequently to prevent sticking and burning (should take about four minutes total).
Pour over popcorn and toss gently, while tossing
add in a cup and a half of candy corn.
ENJOY