Early Spring strawberry pie @ CCG Pediatric Blog
One of our traditions around this time of year is fresh strawberry pie. The grocery stores have good deals and you can find some beautiful berries. Here is my recipe, you will love it!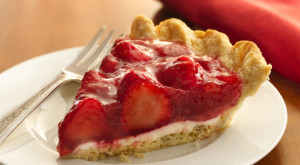 Delicious Strawberry Cream cheese Pie
Ingredients                                    1 unbaked pie crust (9 inch)
Bake Pie crust according to directions and cool
1 8 ounce pkg of cream cheese
1/2 cup sugar
1 tsp vanilla
Mix together and spread in the bottom of the cooled pie crust.
Ingredients:
3/4 cup sugar
2 tablespoons of cornstarch
1 cup water
1 pkg (3 ounces) of strawberry gelatin
In a saucepan combine sugar,  cornstarch and slowly add water, I use a whisk. Bring to a boil and cook stirring constantly until thick and it will turn clear. Remove from heat and stir in the dry jello. Mix well and let cool on the counter for about 20 minutes
Then add 4 cups of sliced fresh strawberries.  Refrigerate.  You can add dollops of cool whip and a few chocolate chips for decorations. Enjoy 🙂