Delicious Pumpkin Recipe at CCG Blog
Pumpkin Caramel Pecan Cobbler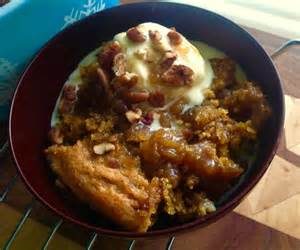 Ingredients:
2 cups + 6 tablespoons of flour
4 tsp baking powder
1 tsp salt
1  1/2 cup sugar
2 tsp cinnamon
1 tsp nutmeg
1 tsp cloves
1 cup pumpkin puree
1/2 cup milk
1/2 cup butter melted
3 tsp vanilla
TOPPING
1 cup sugar
1 cup brown sugar
1/2 cup chopped pecans
3 cups hot water
DIRECTIONS
Preheat oven to 350 degrees
In a medium size bowl stir together all dry ingredients, flour baking powder, salt, sugar, and spices. Set aside.
In a small bowl stir pumpkin, milk, melted butter, and vanilla. Pour wet ingredients into the dry ingredients and mix. Pour into a 9X13 baking dish.
In a separate bowl, stir sugar, brown sugar, and pecans, mix and spread over the top of the batter evenly.
Pour hot water over the entire thing (here is a tip hold a spoon up side down over the batter and pour the water on the spoon it will keep the batter from separating) DO NOT STIR anything. Bake for 50 minutes to one hour or once the middle is set. Cool 5-10 minutes before serving. It tastes heavenly with a dollop of ice cream or cool whip
Photo from Bing images, recipe from Pinterest.